The curated ear fashion trend is still alive going into 2022! Pip Edwards, the 41-year-old fashion designer and former girlfriend of cricketer Michael Clarke, has revealed her curated ear in her edgy new look to her Instagram fans, click here to read more.
Pip shared a close-up of her left earlobe which displays a line of gold jewellery.
The helix, conch, rook, daith and tragus are all recognisable parts of the ear that can be pierced and form part of the curated ear.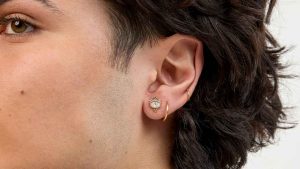 Look around gyms, work, creative spaces, stylish bars and you will see women, and even men in their 20s and 30s with intricately pierced ears. They may have diamond bars "stacked" along their cartilage or four gold hoops hanging in a single lobe or a heart shaped stud shimmering from their antitragus.
These women are all fans of the "curated ear", a popular mode for multiple ear piercings styled by the individuals themselves.
An English study found that nearly half of the women surveyed in the United Kingdom, aged between 16 and 24, had piercings other than the earlobe.
According to the Australian piercing pioneers, Essential Beauty, the five most popular ear placements are:
• Lobes (firsts, seconds and thirds)
• Helix (upper cartilage of the ear)
• Tragus (the skin in front of the ear canal)
• Conch (inner part of the ear itself) and
• Daith (inner cartilage fold of the ear just above the ear canal)
And the appeal?
"I get compliments on my curated ear all the time and it's nice that people notice" says one of the thousands of Essential Beauty customers.
Another fan said: "I love the feeling and so every six months, I add to my collection and I love the fact that I can change my jewellery according to my moods."
Humans have been piercing their ears for centuries. In the Bronze Age, pictures depicting women wearing hoop earrings can be found on Santorini in the Greek Isles. However, the mode for multiple piercings, is a more modern phenomenon.
Ear piercing jewellery, such as this from Essential Beauty is increasingly popular.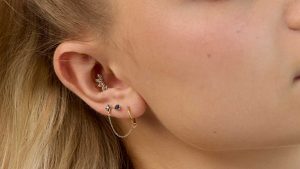 Call your local salon, book online or walk in for a consultation about your curated ear and your own individual look today!
Ten articles before and after
Conch Piercings - The Ultimate Guide
What is Lava Made of? What is Lava Stone Good for?
What Happens When Your Evil Eye Bracelet Falls off?
Body Jewellery Online - About our online shop
What You Need To Know About Lash Lifts
Why you should still wax in winter
Your guide to body jewellery materials