Are you struggling to create that extra lift and boost with your lashes no matter what mascara you use, a lash lift is the way to go. You could go down the path of lash extensions, but that requires a lot of maintenance and can get very expensive. Get ready for lots of compliments, as a lash lift will enhance your eyes and make your lashes look long and beautiful.
What is a Lash Lift?
A lash lift is like a perm (permanent curl) for your eyelashes. Compared to lash extensions, a lash lift simply alters the shape of your natural eyelashes. Everyone has different lash lengths and growth directions, some lashes grow down and others grow straight out.  A lash lift treatment involves lifting each individual lash with different solutions that will permanently change the shape of your lashes until those hairs fall out and you grow new lashes. Of course, your lashes don't all fall out at once, so your lash lift results will be most dramatic straight after you get them done, but it will last up to 4-6 weeks. It is most popular coupled with a lash tint for thicker, darker, longer looking lashes.
What is getting a Lash Lift like?
The whole lash lift process takes around 45-60 minutes. Treatment will begin with a consultation to determine what kind of lash style you are wanting to achieve. Based on your decision your Beauty Therapist will pick a suitable silicone curling rod size to shape the lashes. Your eye area will be cleansed before the silicone rod is placed onto the eyelid. Your natural lashes are then curled over the rod with an adhesive to help them set. Once all the lashes are positioned correctly, a lifting lotion is applied to mould the lashes to the curling rod, followed by a setting lotion to set the lash shape.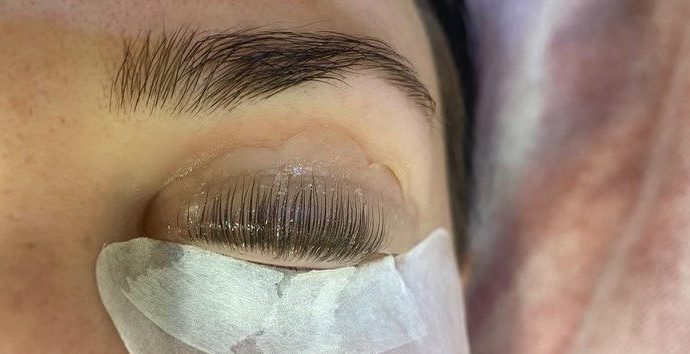 How long does a Lash Lift last?
This depends on how quickly your lashes grow, but results typically last six to eight weeks. Your lashes will look their most dramatic during the first 4 weeks, but it is important to wait until your full lash cycle is over before having another lift. To keep your eyelashes looking amazing, we recommend getting another lash tint halfway through the life of your lash lift.
How to prepare for a Lash Lift:
On the day:
It is best to arrive to your lash lift appointment with no eye makeup.
Do not curl your eyelashes with a lash curler on the day.
Do not wear contact lenses to your appointment.
24 – 48 hours after:
After your lash lift avoid eye makeup, including mascara for 24-48 hours.
Avoid getting your eyelashes wet for 24-48 hours as this will rinse off the perming solution and this will change the results.
Avoid touching your eyelashes or rubbing your eyes for 24-48 hours.
Aftercare:
Avoid waterproof mascara and makeup removers or cleansers that contain silicone, parabens, fruit acids or lactic acids, as these can interfere with your new lash shape and can cause broken and brittle lashes.
Use the Dalton Instant Effect Eye Gel to help ensure lashes and the skin around the eyes stay smooth, nourished and healthy. Dalton's Instant Effect Eye Gel also contains plankton and castor oil that has been known to stimulate hair growth.
To help maintain your lash lift results, use Elleeplex by Eleebana. Elleeplex is an advanced gel formula used to promote lash health, providing moisture and shine to the lashes. The ingredients in this product include proteins, amino acids, keratin, biotin and collagen.
Book a Lash Lift & Tint service at your local Essential Beauty! You will love your new, beautiful lashes!
Ten articles before and after
Body Jewellery Online - About our online shop
Conch Piercings - The Ultimate Guide
What is Lava Made of? What is Lava Stone Good for?
Why you should still wax in winter
Your guide to body jewellery materials
Piercing Emergency Situations - what do I do?
How to Prepare Your Skin For Leg Waxing