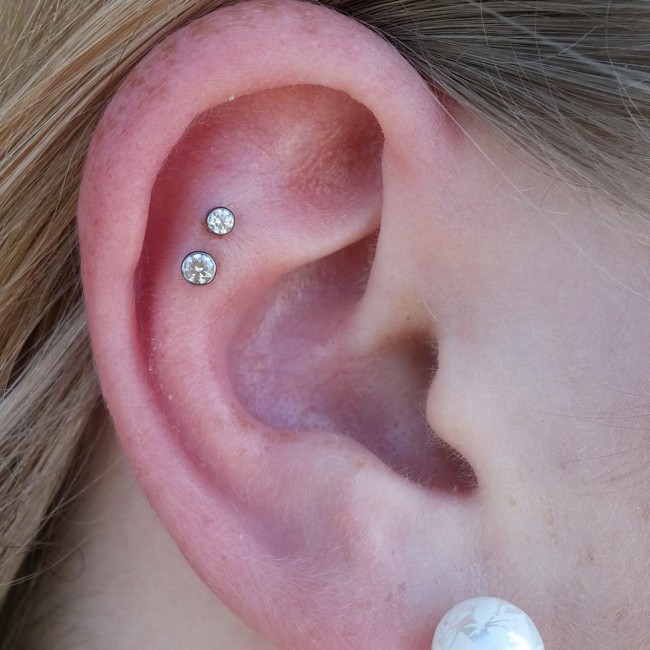 If you get bored with tractional ear piercings, try something fresh and catchy. Add some rock to your look with cartilage ear piercing.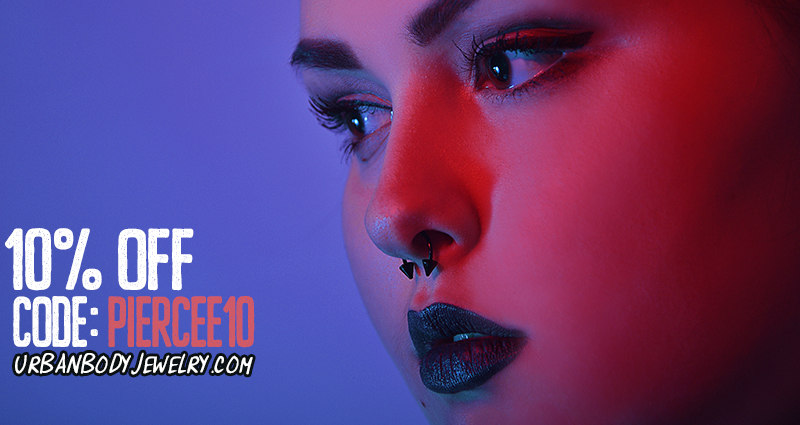 What is a Cartilage Piercing?
Cartilage piercing is a general name for the puncture of the large ear cartilage. It is the most common piercing after the earlobe one.
Cartilage piercings can be presented in many different variations. Depending on the exact location of perforation, you might choose between upper and middle cartilage piercing. Both look really awesome!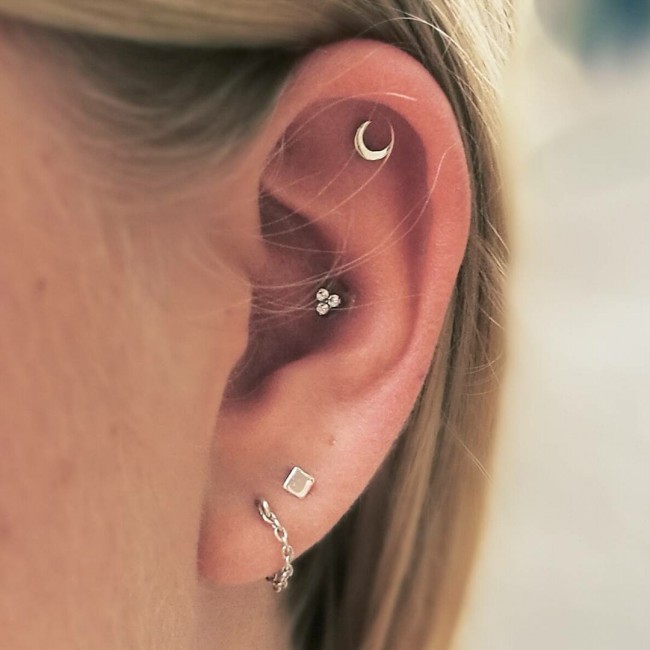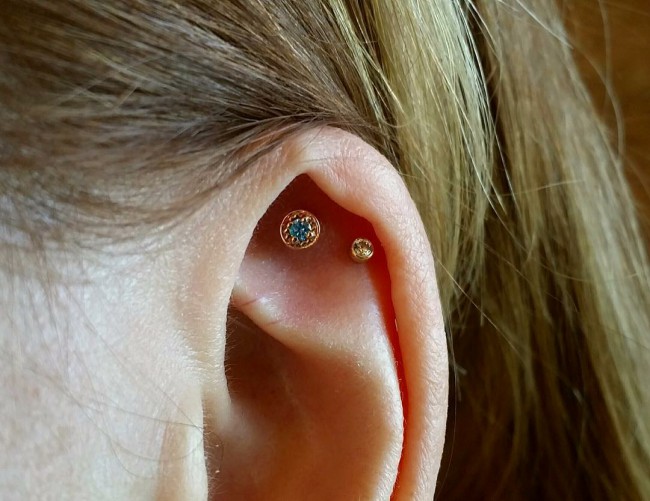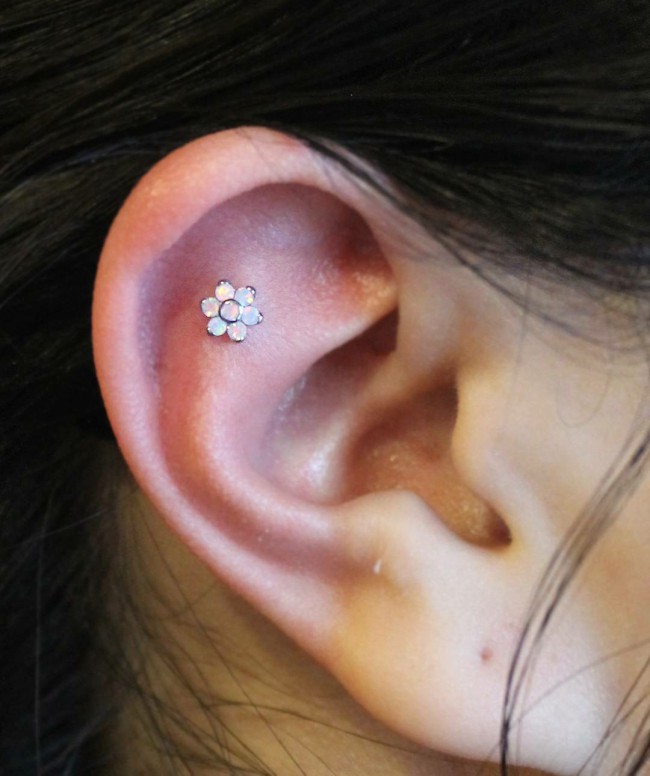 Read also about helix ear piercing.
Should You Go For It?
Pros
This would be the first unusual piercing after getting your earlobe done. So, it is not going to change your image dramatically, but it will definitely make your look stylish.
Cartilage ear piercing provides you with a room for imagination. You might try some unusual variations, such as double or even triple punctures. With silver rings inserted, be ready to attract attention to your fabulous look!
Cons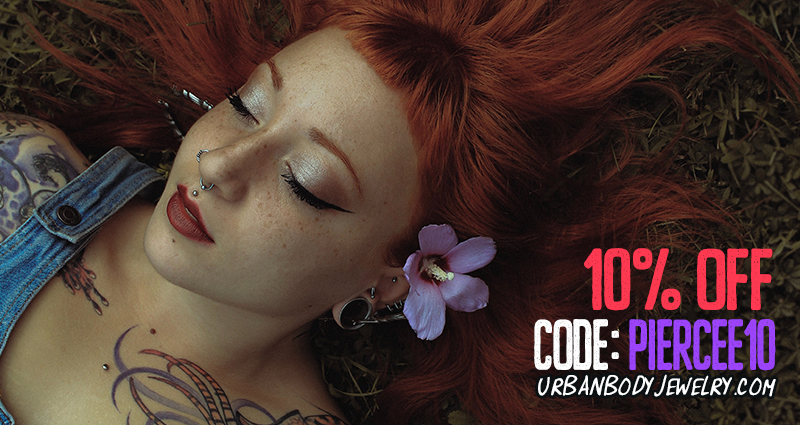 As with many other piercings, you should be really careful with the procedure and aftercare rules. Any perforation of the cartilage might cause some side effects and infections. To avoid them, follow the instruction that will be given by your piercing master.
During the procedure, you will experience some pain, which is relatively stronger than with the earlobe piercing. However, it is still not a big deal. This pain would not last long, and the final results will definitely excuse it.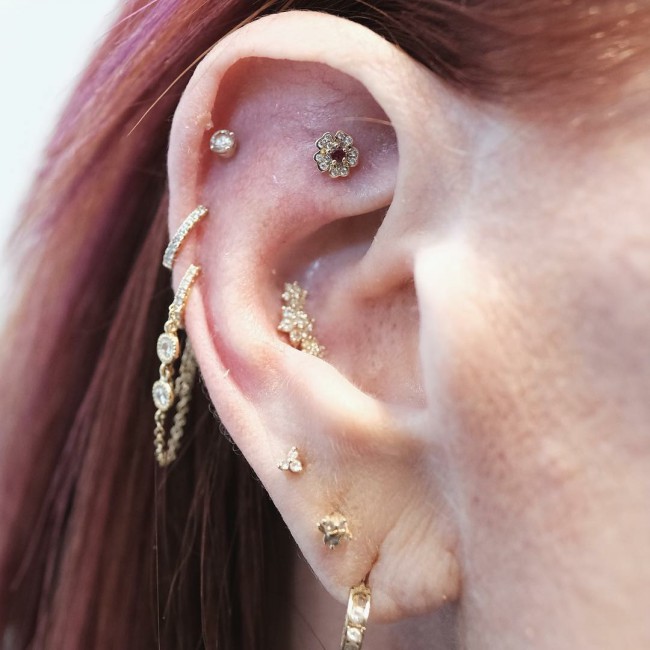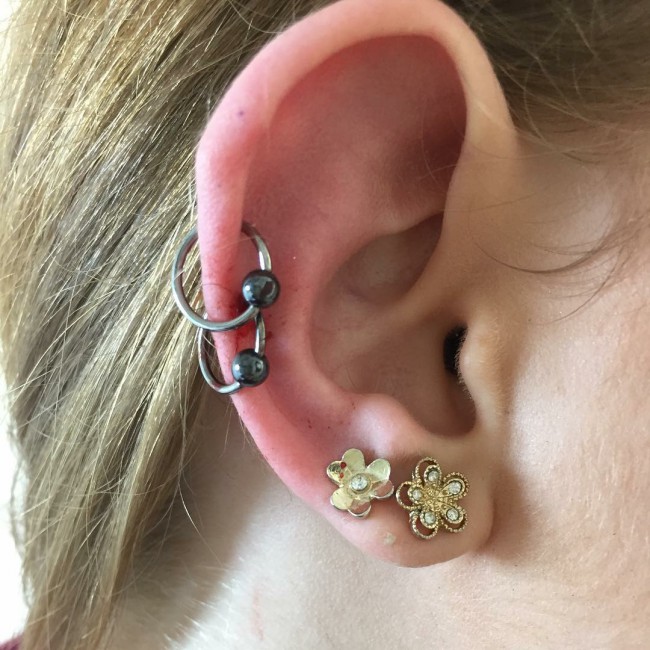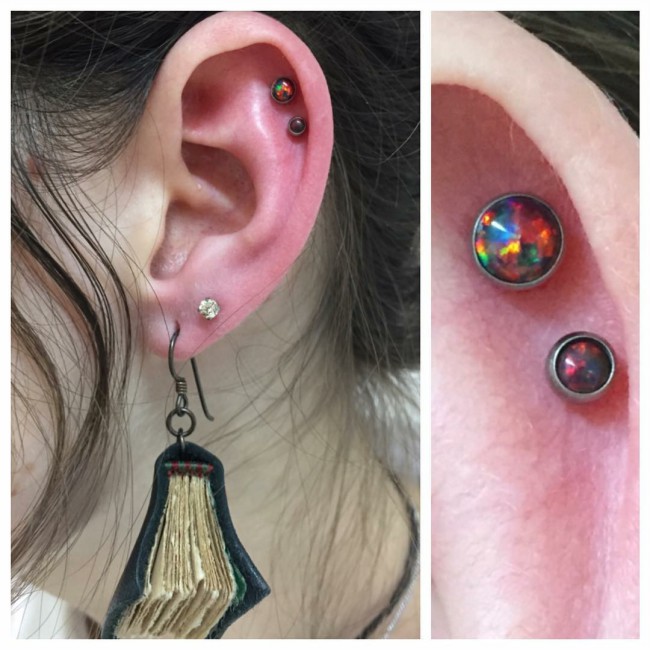 Procedure
In order to get your cartilage pierced, you should find a good and experienced piercer. He must know how to perform the procedure correctly and properly instruct you afterward.
The first thing the piercer should do – is to get all the instruments sterilized. Then he or she should put a disinfectant on the piercing location. At this point, you have to choose the piercing spot for your piercer to mark it out with a surgical pen. After this part is done, the piercing master will fix your cartilage with a clamp and pull a needle through it. When the hole is made, the jewelry is inserted.
For more information on the cartilage piercing, watch the video here:
Find more on how to pierce your own cartilage.
How Bad Does It Hurt?
Cartilage piercing pain level – 3 of 10
[powerkit_progressbar value="30″ height="20″ color="primary" display_value="true" striped="true" animated="true"]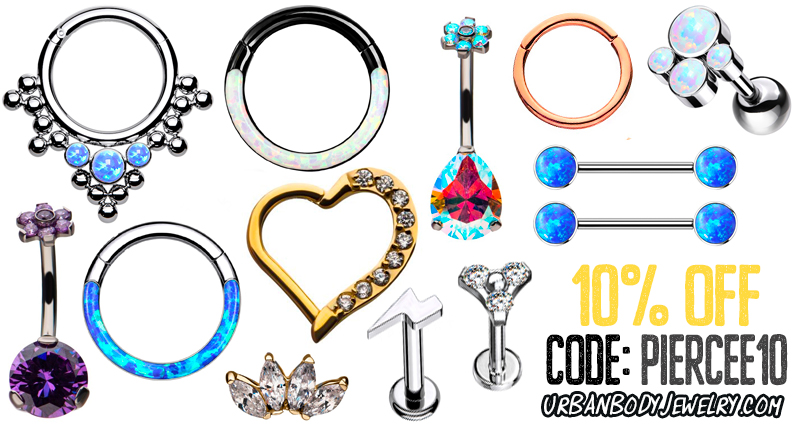 Cartilage piercing is among the less painful piercing procedures. Its pain level is measured on the pain scale as only 3 points out of 10.
Cartilage piercing pain is sharp and quick. It doesn't last for more than a few seconds. However, the hardest part of the experience is the first two weeks after the actual procedure.
BTW! Find out the piercing pain chart in order from most to least.
If something has gone wrong, the ear might become sore, swollen or you even might see a bump on it. It is the sign, that the cartilage is infected. To avoid the possible risks, you would need to stick to the aftercare rules given below.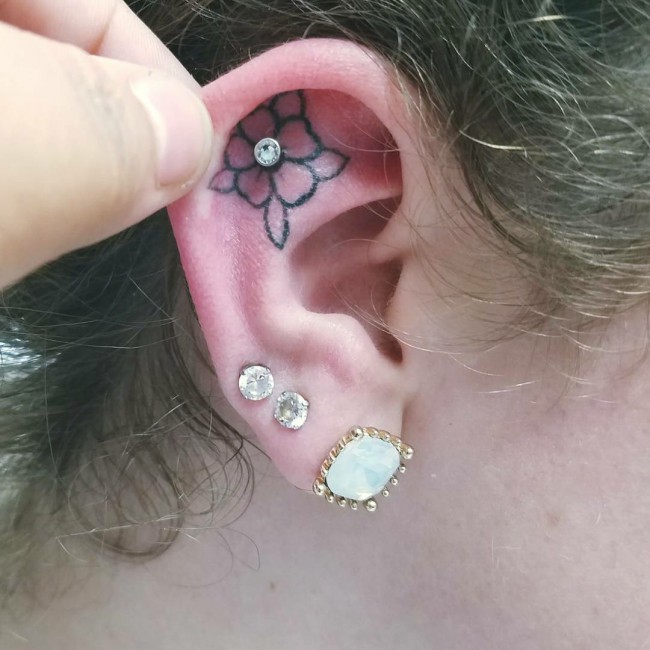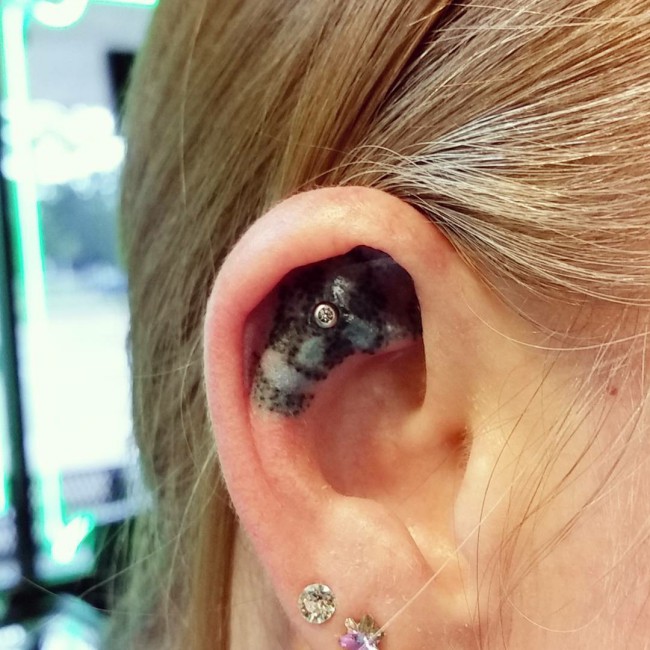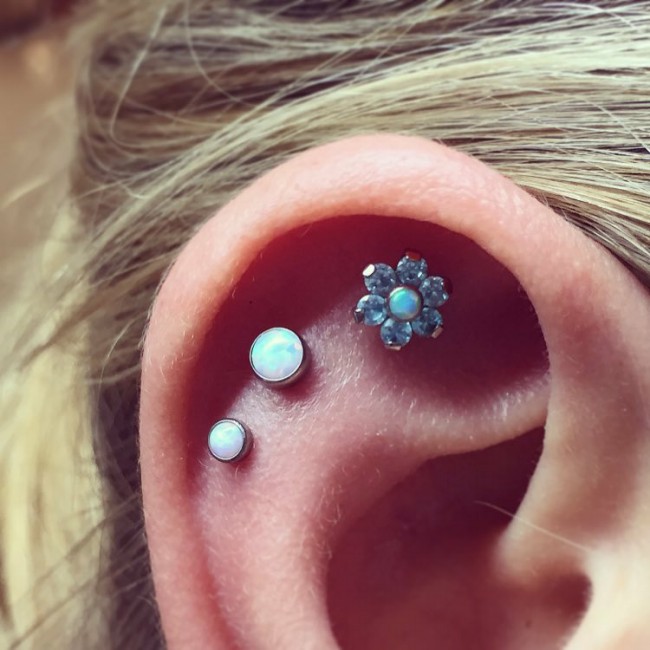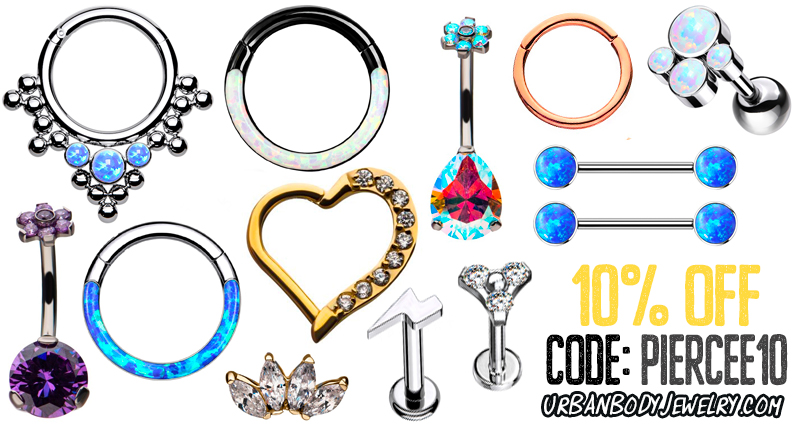 Healing
The healing time depends on several factors, such as your health, how you take care of the piercing and your individual body reaction.
In general, complete cartilage piercing healing might take from 4 to 10 months.
Aftercare
Remember not to change your cartilage piercing until it's fully healed. Here are the steps that would help your piercing to heal faster:
Do not let the water get into the fresh hole. Avoid swimming in the first month.
Try to not sleep on the side of your piercing. That could cause bacteria getting into the wound.
Avoid pulling the cartilage piercing. Even if it is itchy, you must not touch the earring with dirty hands. Otherwise, you can hurt the piercing and let an infection in.
In case you see crust on the piercing, do not remove it with fingers. It is absolutely normal to have some dried fluid located around the earring. What you can do is gently remove this crust using cotton with a disinfectant.
How to Clean
It is recommended to use saline solutions for cleaning. You may buy a pre-made salt liquid in a designated shop. Otherwise, it is not difficult to prepare it oneself. In this case, you would just need to mix one cup of warm water with a quarter of teaspoon with sea salt.
You should clean your cartilage piercing with this saline at least twice a day during 1-3 months approximately. You can stop the procedure when the piercing is not painful or when it is not draining anymore.
Read more about ear piercing aftercare.
Recommended Aftercare Products
Sea salt
Choose for DIY sea salt soaks. The best product to speed up the healing process.
[powerkit_button size="lg" style="secondary" block="true" url="https://www.amazon.com/gp/product/B00NTAH740/ref=as_li_ss_tl?th=1&linkCode=ll1&tag=newpiercings-20&linkId=c803244438447805b50d928e393c41cd" target="_blank" nofollow="false"]
Buy Now on Amazon
[/powerkit_button]
Piercing aftercare spray
Choose if you don't have time to make saline solution every time you need to clean your piercing.
[powerkit_button size="lg" style="secondary" block="true" url="https://www.amazon.com/H2Ocean-Piercing-Aftercare-Spray-Fluid/dp/B007M1ZQM2/ref=as_li_ss_tl?ie=UTF8&linkCode=ll1&tag=newpiercings-20&linkId=0853f84b69e9fadfc4cbd13242ed4719″ target="_blank" nofollow="false"]
Buy Now on Amazon
[/powerkit_button]
Best Jewelry
When your cartilage piercing is completely healed, you can think of changing the jewelry. Try to choose an earring made of metal that does not cause an allergy, such as gold, silver or titanium. Otherwise, your piercing could become itchy, which can cause infections while scratching it.
For the first time, choose the nicest earrings which would be no more than 14 gauge in size. You don't want to experience the pain of stretching while inserting it. It may be a shiny stud or a pretty bar. Such earrings would be really cute on small ears. Moreover, black hoops or rings would be a perfect solution for a guy. With double or triple piercing they will look especially cool.
How Much Does a Cartilage Piercing Cost
In the US the cartilage ear piercing would cost around $20 to $55.
In the UK the price varies from £18 to £30.
In Europe, you would pay around €15 – €35.
Experience
Cartilage Piercing Image Gallery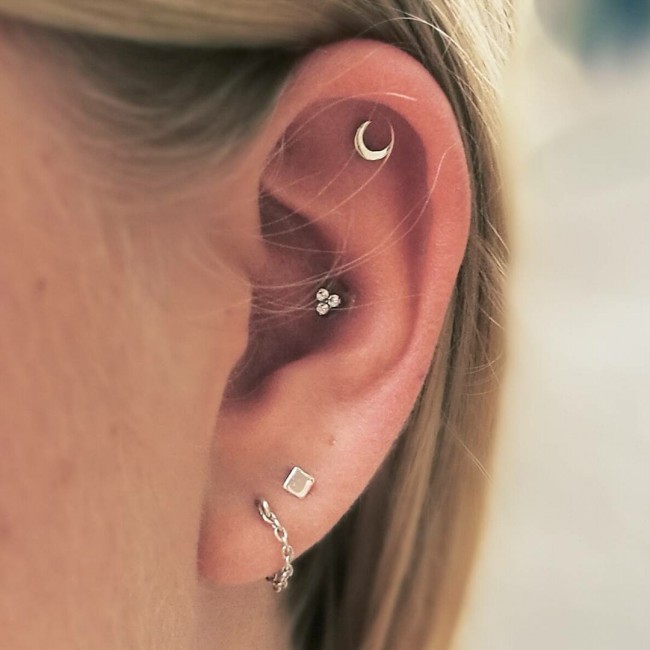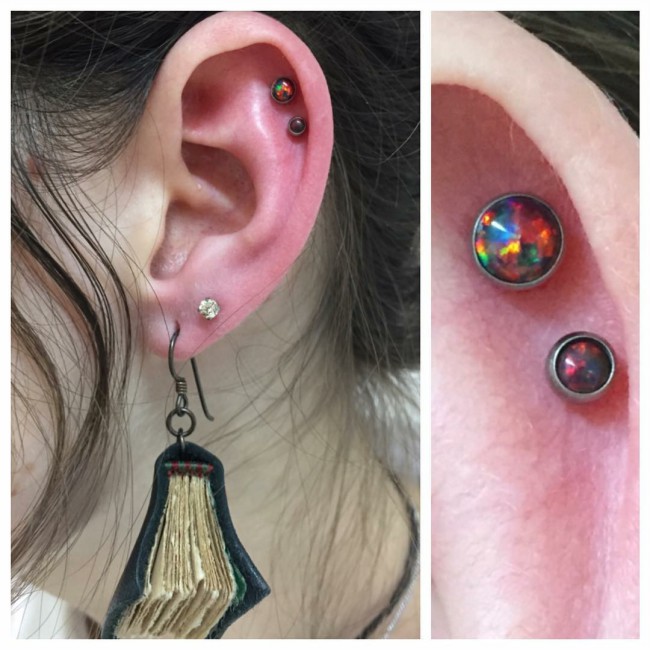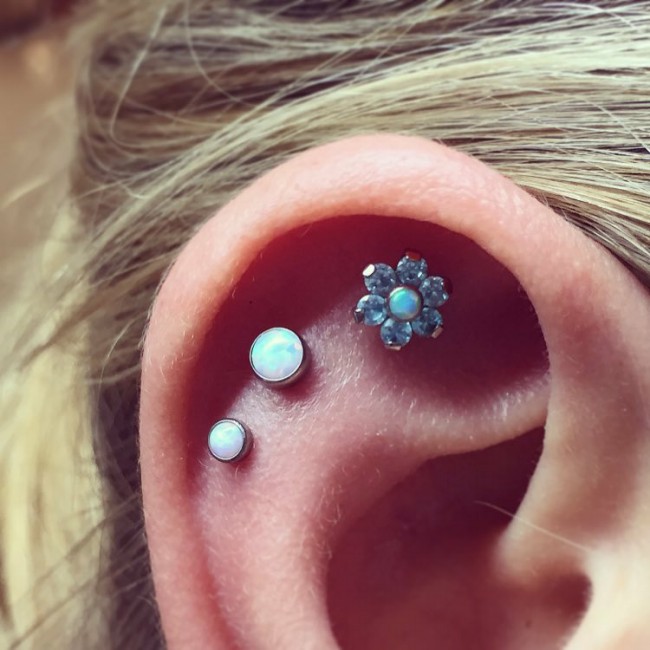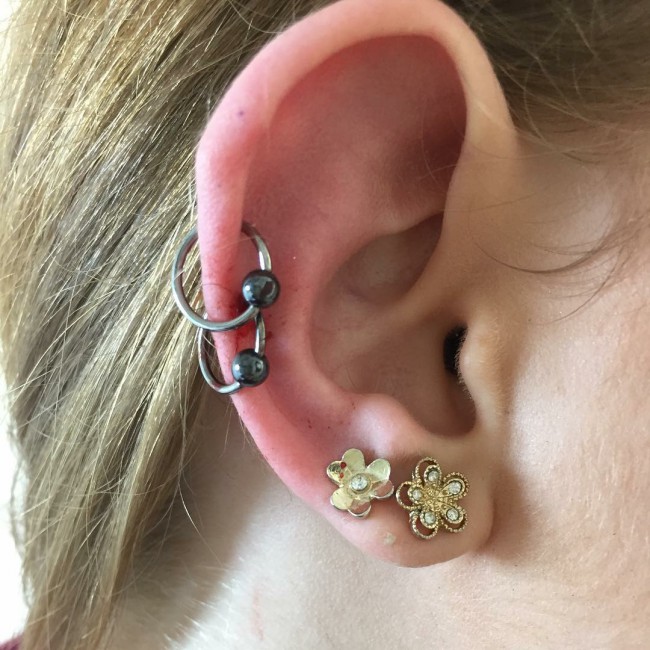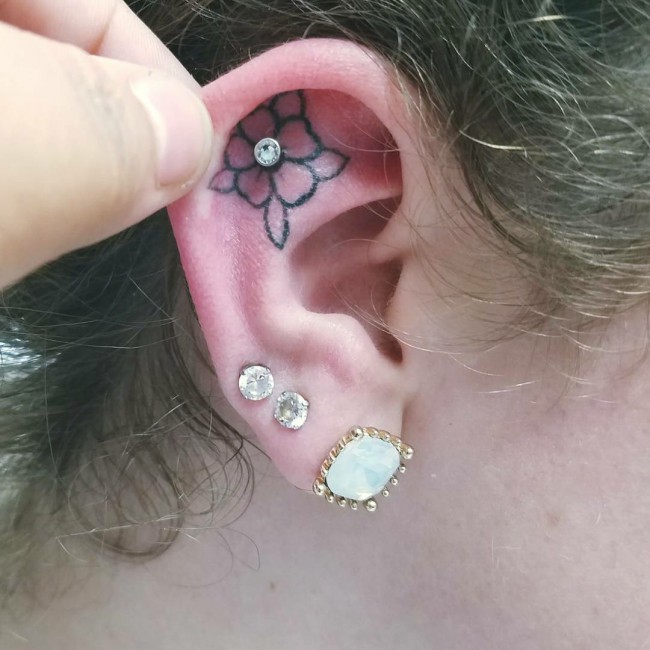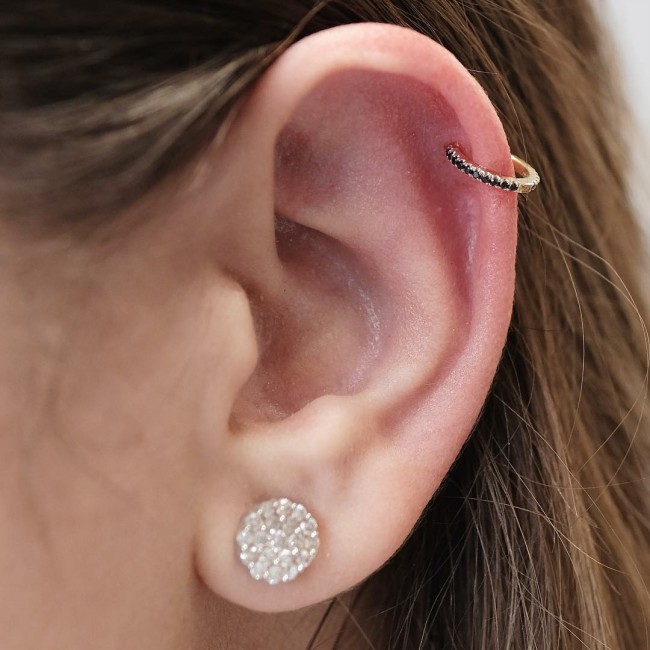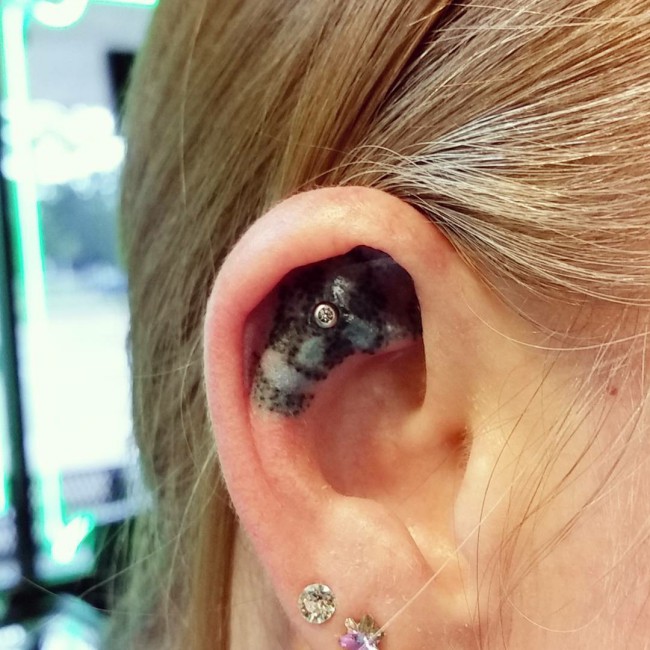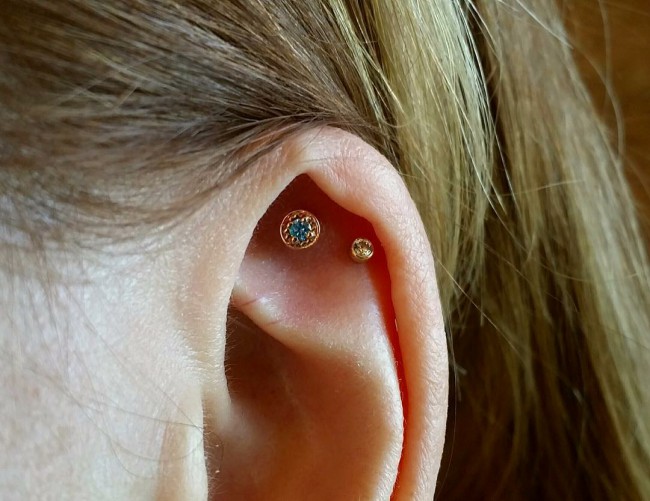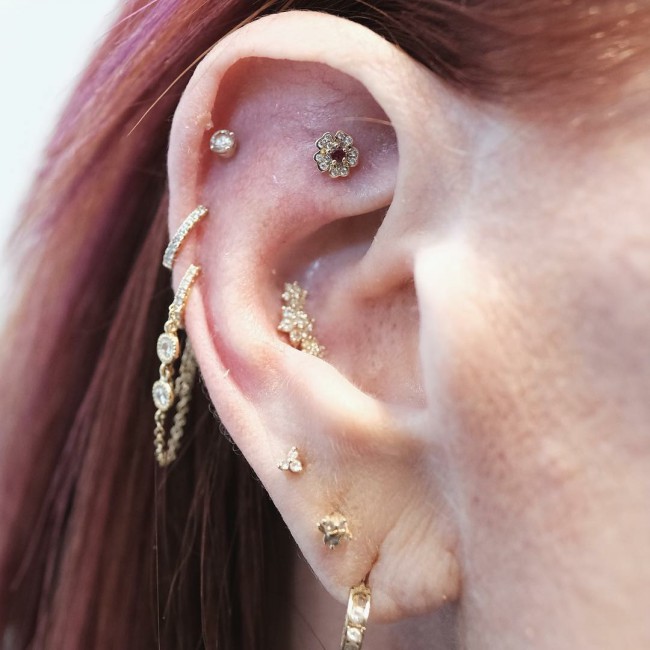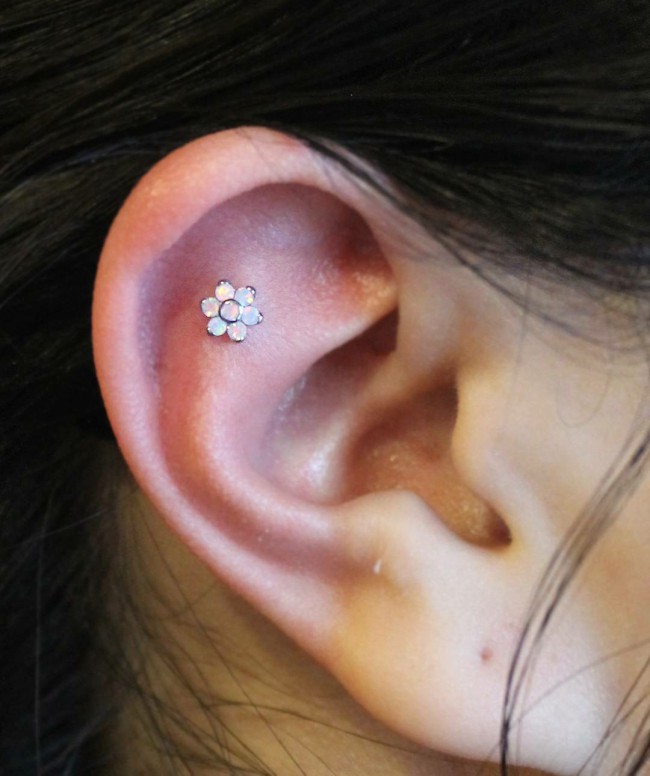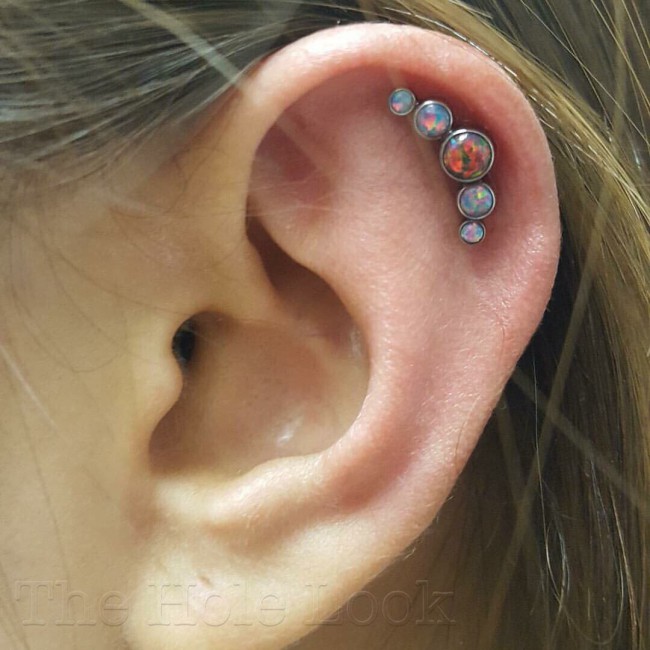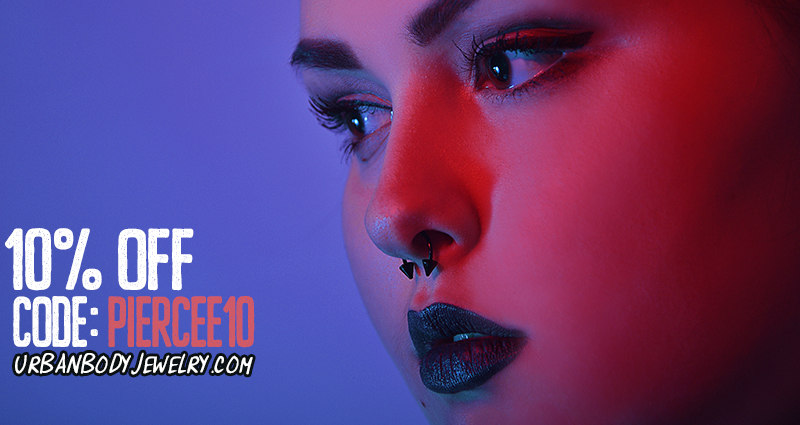 Christina Andrusenko

It pisses me off when I can't find proven information about piercing type I interested in. That is why Piercee was created.

Best Jewelry for Daith Piercing

Ten articles before and after
Best Daith Piercing Jewelry: Shape, Material, Accessories
Orbital Piercing [50 Ideas]: Pain Level, Healing Time, Cost, Experience
Ear Lobe Piercing [50 Ideas]: Pain Level, Healing Time, Cost, Experience
Trident Piercing [25+ Ideas]: Pain Level, Healing Time, Cost, Experience
Cute Snake Eyes Piercing 50 Ideas: Pain Level, Healing Time, Cost, Experience