Studs, barbells, clickers, horseshoes, surgical steel, rose gold, etc. These terms sound unfamiliar, don't they? We are going to make everything clear. You have decided to make a daith piercing. Do you know that the piercing industry produces lots of jewelry that differ in purpose, shape, and material it's made of? If you do not have a stylist by your hand, read the following article through in order to know what is the best jewelry for daith piercing.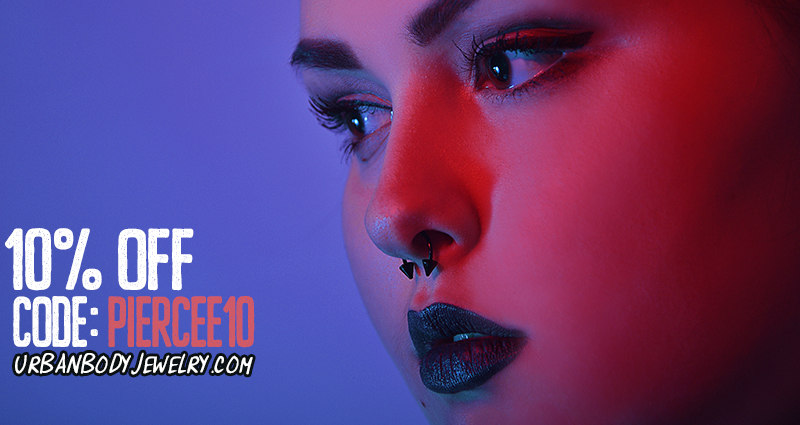 Daith Piercing Jewelry Shapes and Styles
Circular barbell
It is the most popular kind of earring for daith piercing also known as a horseshoe. A circular barbell is a piece of universal and outstanding jewelry that makes a strong accent on your ear. It is highly customizable, as it may come with tops similar to the handle, or unique ends (plastic, gem, metal, etc.) Being very 'traditional' jewelry form of the daith piercing, a circular barbell will definitely attract attention to you.
Straight Barbell
It is the simplest daith piercing jewelry type. This straight stick with two balls on ends, despite its simplicity, may become a member of your jewelry set. With an ability to be topped with jewels or other accessories, this universal piece of jewelry can fit any style. Austere geometric forms and simplicity will highlight your temper and straight character. It is easy to apply, substitute, and remove a barbell. In general, a straight barbell is a "must buy" for every daith piercing enthusiast.
Curved barbell
Having the same popularity as straight or circular barbells, a curved barbell is another perfect jewelry for a daith piercing. Like any other barbell, it has various ends to customize. Its shape will be the best for small ears, as it repeats the shape of ear cartilages. This tender jewelry will create an unobtrusive, but remarkable accent on your ear.
Heart-shaped
When it goes about expressing your passion and opening your tender soul, what can do it better than a heart-shaped piercingjewelry? Traditionally a heart has been a symbol of love and feelings. Such a piece of passionate jewelry as a heart-shaped ring placed on such a tender and intimate body part as the ear will make everybody crazy about you.
Every girl wants to show and feel love, that is why it may be your best earring for daith piercing.
Moon-shaped
Moon-shaped daith piercing jewelry is your choice if you want to highlight your tenderness and mystique. The moon has been a sigh and a celestial body to be associated with women in many cultures. It gave them strength and beauty. Like its prototype, a moon-shaped jewelry for daith piercing is able to increase your beauty and power. As well as other earrings, moon-shaped piercing rings come in different forms, metal, and decorations. Plus, moon shape looks amazing in daith piercing, highlighting and making an accent on this area of the ear.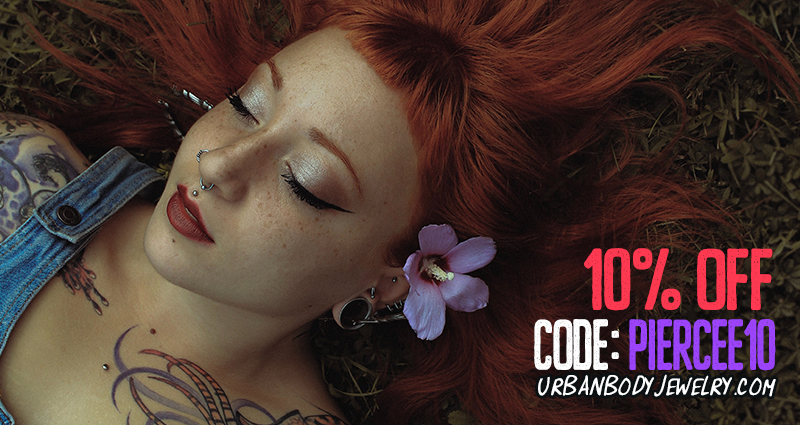 Hoop
Have you been looking for something interesting and universal at the same time? Hoop-shaped rings can do the trick. This choice will mark you as a deep personality with a vivid imagination and light temper.
Clicker ring
If you are looking not only for beauty but for the proof of being acquainted with the latest trends, a clicker ring for your daith piercing is what you need. Being various in shapes, decorations, and forms, a clicker ring is considered to be a kind of the best daith piercing jewelry. It is easy-to-remove, so even a small set of clicker rings allows you to pick a proper style.
Stud
Stud is an unusual, but still attractive way of daith piercing. If you are into minimalism, stud daith piercing can be your choice. As usual, studs go with a gem or gem-like accessories inside. Having a set of colorful stud earrings discloses wide opportunities in picking a special style according to occasion or mood.
Metals Used For Best Daith Piercing Jewelry
The choice of metal can be crucial for defying the best jewelry for daith piercing. It can be made according to medical, aesthetic, price, and occasional considerations. Let us discuss the most popular metals used to produce daith piercing jewelry.
Surgical steel
It is the cheapest option for those who do not suffer from any after-effects of piercing. Do not be confused by its name: surgical steel means that a jewelry is made of the same alloy the surgical instruments are made of, but not the implants and pins (they are produced from titanium).
The low price means that surgical steel is not hypoallergenic, and, sometimes, the quality leaves much to be desired. However, the material is really popular, and you are more likely to find some cool and unique options. In conclusion, surgical steel is not recommended for long-wearing but can be perfect for occasional stylish decisions.
Titanium
Titanium is a recognized leader among non-luxury piercing jewelry materials. It shows a high level of biocompatibility so that it can be used for the primal piercings. As usual, two types of titanium are used in the industry: pure titanium or its alloy with aluminium and vanadium. You are likely to find a lot of steel pieces of jewelry with titanium spraying. Consider it before buying. Besides the classic metal color, titanium can get any color by going through anodizing. Its biological properties do not disappear after the process.
14k gold
It is the most regular type of gold used to make jewelry. Daith piercing is not an exception. In general, it is an alloy of 14 parts of pure gold and 11 parts of different metals. Alloy is tougher than pure gold. Daith piercing jewelry made of it is hypoallergenic and has characteristic color. 14k gold piercing jewelry is a perfect choice both for regular wearing and special occasions.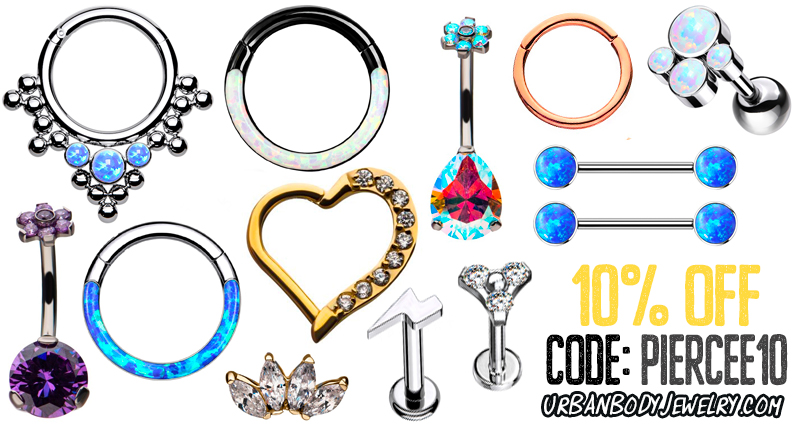 Rose gold
This metal has a beautiful red shade. It looks darker than regular gold. It will not shine as brightly as regular gold, but some people consider it more luxurious. So, it does not make a very strong accent, but when it is noticed, it will make everyone stare at you. As for the material properties, this gold does not seem to be dangerous for allergic people.
White gold
This alloy looks like a brighter and more luxurious version of silver or titanium. White gold is an alloy of gold and silver. It is free to use by people with allergies. As a rule, white gold jewelry comes with gem accessories. Combinations with other metals are usual as well.
Silver
Despite its beauty and luxury, it has some side-effects you should know about. First, it is not recommended as a metal for a primal piercing. Silver can cause an allergic reaction and nickel intoxication in the contact with fresh piercing wounds. Also, it is not suitable for people with an individual reaction to silver. Among its advantages, we can name the relatively low price and a wide selection of piercing jewelry.
Gems That Come With Daith Piercing Jewelry
Daith piercing jewelry can be hardly imagined without gems. Apparently, you can apply or find every kind of gems in the daith piercing jewelry, but we will consider 3 most popular gems to choose to create best daith jewelry look.
Turquoise
This beautiful light blue stone fits perfectly with golden jewelry. Having such a gem in your daith piercing will make a refreshing effect on your ear and the whole appearance. Experts say that it goes well with light colors of hair and outfit.
Diamond
The 'king' of gems could not miss daith piercing jewelry. Diamond is one of the most beautiful gems, so it always attracts attention. Another advantage of a diamond is its utility. It can adorn every ear, every outfit and style. You will never spoil an impression you cast with a diamond daith piercing.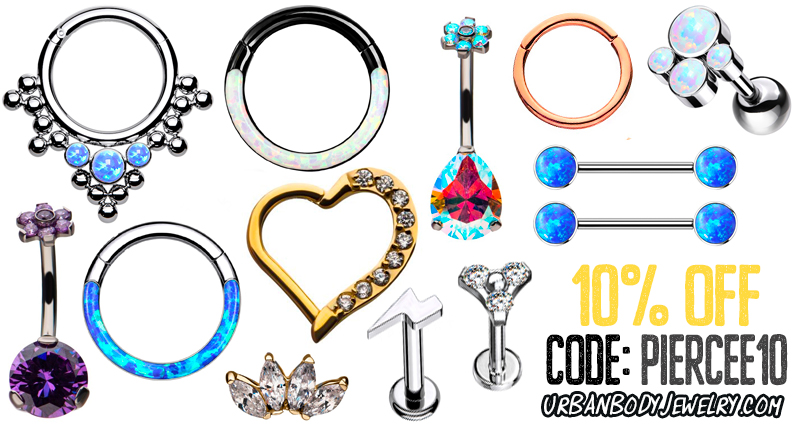 Opal
This relatively cheap gem is a very likely choice for good daith piercing. Its advantages are not limited by its price. It looks very beautiful when it is polished. It can be applied to the majority of jewelry shapes. An opal forms the tops of many barbells and goes into daith piercing rings. Plus, it varies much in colors and textures. It means you can pick some different opals for different situations.
Best Daith Jewelry For Men
It may sound strange, but a 'jewelry box' for men can amaze you.
Modern young men prefer rings made of plastic or natural materials (bone, wood). Those who love active evening life should take a look at silicon or acrylic barbells and rings that glow in the dark.
Forms and shapes for men tend to be less pretentious or florid. However, a list of traditional men's piercing jewelry forms includes almost everything described above: barbells (straight, curved), bendable and clicker rings, and studs. As for shaped jewelry, men tend to wear more masculine images.
What types of jewelry for daith piercing are there?
Due to the thickness of cartilage, daith piercing is not a very comfortable place for every type of piercing jewelry. As usual, daith piercing implies rings, clicker rings, studs, and various barbells. Shapes and sizes can vary. However, the thinnest rings are not recommended for ears: they can tear tender skin. Consider that a plug or a tunnel is not the best piece of jewelry for daith piercing.
What daith jewelry metal is better to choose and why?
The best option – 14k gold jewelry.
However, you can choose any following your preferences, tastes, and expectations. The only objective thing you need to consider is your biological correspondence with different metals. Some people show a reaction to silver or even gold.
Surgical steel is not considered to be good for long-wearing or primal piercing. Daith piercing is a zone where you hardly break or tear the skin, so you may not consider the physical properties of a metal or material.
How to take care of your daith jewelry?
Daith jewelry does not differ much from regular jewelry. So, it requires the same attention as any earring.
Take jewelry off every 2 weeks. As for cleaning, use the means appropriate for the material as well.
There are different ways to clean jewelry, depending on the material it is made of:
Simple water cleaning (works for all types);
Vinegar cleaning;
Cloth polishing (works for all types);
Washing a jewelry in a special device;
Using special liquids designed to care about precious metals and gems.
Let your jewelry dry out well before applying it back. And, of course, organize a special place where you keep all your daith jewelry. A simple box will not let you lose these relatively small jewelry.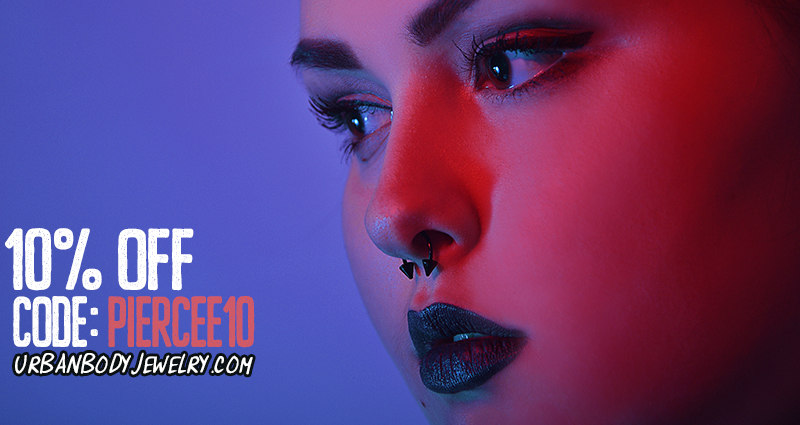 Christina Andrusenko

It pisses me off when I can't find proven information about piercing type I interested in. That is why Piercee was created.

Orbital Ear Piercing – Ultimate Experience Guide

Ten articles before and after
Orbital Piercing [50 Ideas]: Pain Level, Healing Time, Cost, Experience
Ear Lobe Piercing [50 Ideas]: Pain Level, Healing Time, Cost, Experience
Trident Piercing [25+ Ideas]: Pain Level, Healing Time, Cost, Experience
Cute Snake Eyes Piercing 50 Ideas: Pain Level, Healing Time, Cost, Experience
Angel Bites Piercing [50 Ideas]: Pain Level, Healing Time, Cost, Experience
Cartilage Piercing [50 Ideas]: Pain Level, Healing Time, Cost, Experience